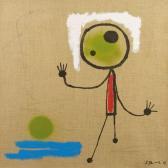 Cornette de Saint Cyr
Jun 27, 2011
Some works of Steve Davis
Extracted between 3 works in the catalog of Arcadja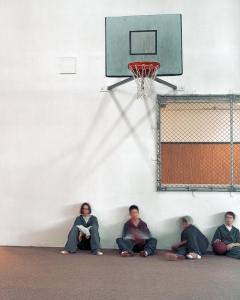 Original 2002
Lot number:
2943457
Other WORKS AT AUCTION
Description
:
Steve Davis, Basketball Court, Remann Hall, 2002, Photograph DC06
Pigment print, signed on the reverse, edition # 4/4.
Directly from the artist.
23 x 29"
Condition
The artwork is in excellent condition.

Much of my work has centered on a theme of imprisonment—for reasons of crime, bad luck, or nature. My subjects lack the freedom and liberties afforded most individuals living in the United States.

This image is from Captured Youth, a series of and about incarcerated teenagers. It represents four different institutions in Washington, taken over a span of eight years. What are officially referred to as \"schools\" are fact, jails for juniors--full of secrets and hidden from the public's eye. But on the inside everyone and everything is watched. I\'\'ve been continually struck by the simultaneous vacuity of these institutions and the intensity and passion found in the faces of its young residents. It is these faces that I asked to do the talking. There is more to read from the eyes than from the architecture. (There are exceptions. The Green Hill School\'\'s Intensive Management Unit, for example, demanded my attention as the most inhumane living environment I ever witnessed.)

All my images are created with an 8X10 camera. The slow, detached and deliberate approach demanded by large-format photography seems like a good match in my attempts to interpret and present people and their lives. The extreme clarity and detail tends to demand a level of attention and consideration that my subjects deserve.

It is my hope that as viewers look at the people and their confinements in my images, they consider some of the messy and complicated issues surrounding such a great number of people who live, laugh, and suffer in exile—hidden from view, but always nearby.

Steve Davis is a documentary portrait and landscape photographer. His work has appeared in Harper's, the New York Times Magazine, Russian Esquire, and is in many collections, including the Houston Museum of Fine Arts, the Seattle Art Museum, the Santa Barbara Museum of Art, and the George Eastman House. He is a former 1st place recipient of the CENTER\'\'s Project Competition. Davis is the Coordinator of Photography and Media Curator at The Evergreen State College in Olympia, Washington.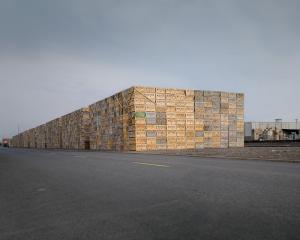 Original 2009
Lot number:
1566365
Other WORKS AT AUCTION
Description
:
Item No. 1566365 : Steve Davis, Washington Fruit and
Produce, Yakima, 2009 D4WD
Description
Archival Inkjet printed on Museo Silver Rag, signed and numbered
"1/10" on the reverse.
Provenance
Directly from the artist.
Measurements
Paper: 25 1/2 x 31 1/2", Image 24 x 30"
Condition
Condition

Artwork is in excellent condition.

The Western Lands I can see a slope which looks like sand carved by
wind but there is grass or some green plant growing on it. And I am
running up the slope…a fence and the same green plants now on a
flat meadow with a mound delineated here and there…he was almost
there…almost over the fence…roads leading away…waiting….

I stole the series\'\' title from a book by William S. Burroughs. With
this work I am simply trying to convey an experiential sense, or
feeling of being close to nowhere.

Steve Davis is a photographer based in Olympia, Washington. He
received 1st Place in the Santa Fe Center for Photography\'\'s Project
Competition in 2002, and is the recipient of two Washington State
Artist Trust/Art Commission Fellowships. His work has appeared in
the New York Times Magazine, and is in the collections of the
Museum of Fine Arts, Houston; the George Eastman House, the Tacoma
Art Museum and the Musee de la Photographie in Belgium. Steve is
the Washington photographer for the 50 States Project