Hayward M. Davenport
Tweet
United Kingdom
(
1800
- &nbsp
1900
)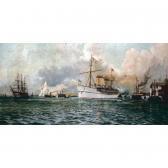 Sotheby's
May 29, 2002
Some works of Hayward M. Davenport
Extracted between 2 works in the catalog of Arcadja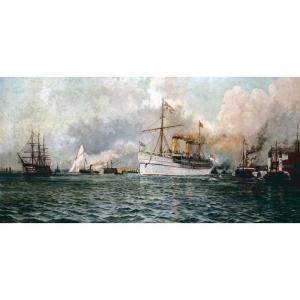 Original
Lot number:
92
Other WORKS AT AUCTION
Description
:
signed and dated
1901
oil on canvas This lot contains 1 item(s).
The H.M.S.\\`\\`\\`\\`Ophir' was built by the shipbuilders Messrs Robert Napier and Sons, on the Clyde in 1891. She was the largest and most powerful ship in the Australian trade at the time.

The most important event in the ship's history was the famous Empire tour of the King and Queen, then the Duke and Duchess of York, in 1901 when they sailed from Portsmouth. The artist, Haywood Davenport, recalls in a letter \\`\\`\\`\\`\\`\\`\\`\\`The Ophir at that time was one of the prettiest ships and for that reason was chosen as being most suited for that occasion. I well remember the wonderful sight it was when she left with bands playing and bunting flying everywhere; a ship's sailing is always an impressive occasion which stirs one's feelings.''

After the tour, the ship returned to the service of the Orient Company until the start of World War I when she was sold to the Admiralty in 1915 for use as transport. She survived the war and returned to the Clyde in 1919 to the shipbreakers yard.

To be sold with various letters from the artist and a book commemorating the royal cruise titled
The Royal Tour 1901, or the Cruise of H.M.S.Ophir
by Petty Officer Harry Price.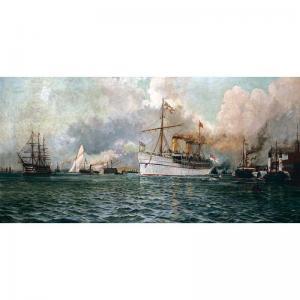 Original
Lot number:
173
Other WORKS AT AUCTION
Description
:
LOT 173

f - Haywood M. Davenport (British 19th/20th century)
signed and dated
1901
oil on canvas

3,000—5,000 GBP