Cecile Dargent-Daudon
Tweet
? Century -&nbsp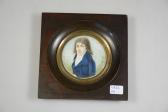 Rops
Oct 8, 2017
Some works of Cecile Dargent-Daudon
Extracted between 2 works in the catalog of Arcadja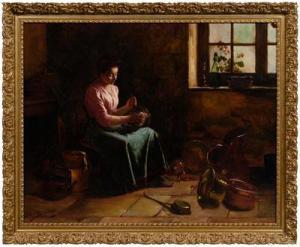 Original
Lot number:
778
Other WORKS AT AUCTION
Description
:
February 20-21, 2010
Lot 0778
Cecile Dargent-Daudon painting,
interior scene with woman polishing copper by a window, signedlower left "Cecile Dargent-Daudon", French, late 19th/early 20thcentury, 51-7/8 x 64 in.; original early 20th century Frenchexhibition gilt wood and composition frame with tendrildecoration.
Remnant of exhibition number upper right corner, cleaned withuneven natural varnish layer under new varnish, crackle,craquelure, stretcher marks; areas of frame resurfaced.

Lot Notes: Painting is accompanied by 1904 silver medal awarded to"Melle Cecile Daudon 2 Medaille" by The Societe Des Amis Des ArtsDe La Cote D'or, Salon De Dijon, in original presentationbox.

Original
Lot number:
902
Other WORKS AT AUCTION
Description
:
Knick-Knack for Domestic Display-Cabinets Artiste(s): DARGENT Miniature 19ème signée Dargent (Diam 6cm)