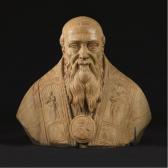 Sotheby's
Jan 29, 2010
Along with Vincenzo Danti, our clients also searched for the following authors:
Landini Taddeo
Some works of Vincenzo Danti
Extracted between 2 works in the catalog of Arcadja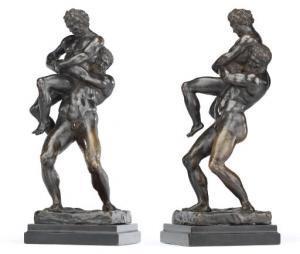 Original
Lot number:
353
Other WORKS AT AUCTION
Description
:
The two figures depicted nude; Hercules holding the struggling Antaeus against his upper torso; on a naturalistic square bronze base and modern ebonised wood plinth; dark brown patina with warm medium brown high points; three casting flaws to the reverse of Hercules' thighs; other minor flaws and damages
The mythological subject, one of the principal Labours of Hercules, was a favourite in Florence, for Hercules was regarded as patron of the city, featuring for instance on its seal in the 15th century (see Ettlinger, 1972). The subject was furthermore addressed famously by Antonio del Pollaiuolo in a bronze group made probably for the Medici, now in the Museo Nazionale del Bargello. He made the combatants face one another, unlike the standard classical rendering in which, as here, Hercules is lifting and crushing Antaeus from behind.
The best known ancient prototype is a fragmentary group that was recorded in 1509 among the antiquities taken by Pope Julius II to the new statue court in the Vatican, and which was - optimistically - attributed to Polycleitus. Its parlous condition is recorded in a small replica that appears in Lotto's portrait of the Venetian collector Andrea Odoni painted in 1527 (currently on display in The Queen's Gallery at Buckingham Palace), and in two views by Heemskerck (see Bober & Rubinstein,
op. cit.
, pl. 137a). The Mantuan bronze artist nicknamed L'Antico referred to it in 1518 as 'the most beautiful work of antiquity that ever was', and made a reduction of it in which he completed the missing head and extremities.
This original, given to Duke Cosimo I de' Medici by Pope Pius IV in 1560, reached Florence in 1564. There it was restored and was recorded soon afterwards, standing under the ground floor loggia in Palazzo Pitti, Florence, by Vasari in a list of Cosimo's antiquities (
The Lives of the Painters
, 1568, vol. III ). It was soon moved into the 'salone grande delle nicchie' constructed as an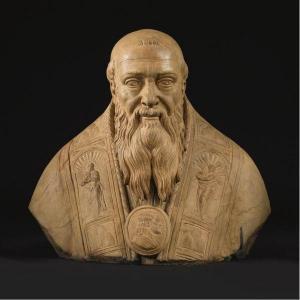 Circle
Lot number:
427
Other WORKS AT AUCTION
Description
:
LOT 427
CIRCLE OF VINCENZO DANTI
1530 - 1576
POPE JULIUS III DEL MONTE
18,000—22,000 USD
measurements
height 23 3/8 in.; 59.5 cm
Description
Italy, Rome
second half 16th century
terracotta bust
A Report on Thermoluminescence Analysis from the Oxford ResearchLaboratory for Archaeology and the History of Art indicates thatsample no. 81M101 was last fired between 400 and 500 years ago(1509-1609), according to Washington, New York, and Cambridge1979-1982, no. 13.
PROVENANCE
Locko Park Collection, Captain P.J.B. Drury-Lowe; SoldSotheby's, London, November 16, 1972, no. 68; Cyril Humphris,London
EXHIBITED
Washington, New York, Cambridge 1979-1982, no. 13 (illus.)
CATALOGUE NOTE
RELATED LITERATURE G.F. Hill, The Medallic Portraits of Christ , Oxford,1920 As Avery discusses (Washington, New York, Cambridge, 1979-1982,op. cit.), three major sculptors were employed by Pope Julius III:Guglielmo della Porta (who was commissioned with Michelangelo tomake the tomb of Pope Paul III as well as his own), BartolomeoAmmanati (who with Michelangelo and Vasari designed and built thedel Monte family chapel in San Pietro in Montorio), and VicenzoDanti (who executed the monumental bronze statue of the Pope inPerugia). The present bust was likely made by a sculptor employed by theworkshop of one of the above-mentioned masters who were intimatelyinvolved with commissions from the Pope. Avery further notes thatHill (op. cit., p. 66) remarks that the series of Papal medals withthe bust of Christ appeared with the Jubilee of 1550, which was theyear Julius became Pope. Julius III was born Giovanni Maria Ciocchi del Monte in 1487. AsCardinal, he was persuaded by emperor Charles V to recall theCouncil of Trent, which had been suspended in 1548. He became Popefrom 1550 until his death in 1555. Julius fit the earlier patternof a pleasure-loving Renaissance pope fond of banquets, theater,and hunting. He supported Michelangelo as architect of St. Peter'sand discovered the genius of Palestrina, whom he put in charge ofthe papal choir. Nevertheless, his leadership of the church waslargely frustrated when political difficulties with Charles Vcaused him to suspend the Council of Trent indefinitely.