Frode N. Dan
Tweet
(
1892
)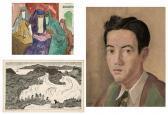 John Moran Auctioneers
Oct 20, 2015
Some works of Frode N. Dan
Extracted between 3 works in the catalog of Arcadja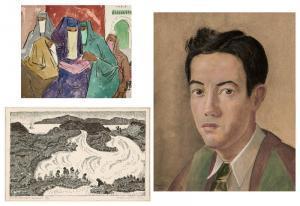 Original
Lot number:
128
Other WORKS AT AUCTION
Description
:
Lot# 128 Frode N. Dann (1892-1984 Monrovia, CA)
Group of three unframed works on paper: ''Moroccan Study, Marrakech'', group of veiled women, signed with initials and dated in the upper right and lower left corners: FNK - 63, signed and dated again and titled verso, watercolor and ink on paper, paper size: 9.75'' H x 11.75'' W; ''Pasadena Young Man'', portrait of a suited man, signed and dated lower left: Frode - 1941, pastel and graphite on paper, image size: 16'' H x 13'' W, paper size: 26'' H x 20'' W; ''Dunes, Hornbeck, Denmark'', signed and dated in pencil lower right: Frode N. Dann - 1974, titled and numbered in pencil lower left: 9/20, etching on paper, plate size: 9'' H x 13.75'' W, 3 pieces, ,
Note: Frode Dann was a painter, art critic and teacher first in his native Copenhagen before immigrating to Southern California. He wed Anna Katharine Skeele in 1946 and the two artists established the Pasadena School of Fine Arts in 1951. Together with Dann's printed sketchbook, ''Spring and Summer in Denmark / Diary in Pen & Ink / April 15 to September 15, 1966'', printed by the artist in an edition of 150, inscribed in ball point pen on the first page: To Elizabeth from Frode, Dec. 25, 1966. Provenance: Estate of Paul and Katharine Coze, Phoenix, AZ; Private Collection, Phoenix, AZ, acquired from the above. Condition: Moroccan Study: Generally good condition. Mounted to a front mat with paper tape along the upper edge and in the lower corners. Pasadena young man: Scattered rubbing on the figure's nose, in the left center and in the pastel areas below the mat. Minor soiling and handling creases. Water damage and staining along the upper paper edge not affecting the figure. Notepaper affixed verso. Partially taped to a front mat. Paper with tape residue along the left and right edges. Dunes, Hornbeck print: Generally good condition. Scattered dots of stain along the left center printed edge and in the margin. Minor toning, soiling and handling creases. The left margin edge bent approximately 1''. Paper loose, not matted or framed.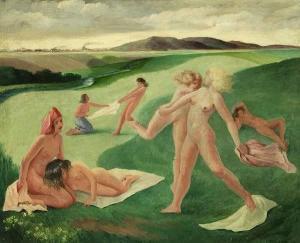 Original 1942
Lot number:
898
Other WORKS AT AUCTION
Description
:
FRODE N. DANN (American, b. 1892). NUDES IN CALIFORNIA LANDSCAPE, signed and dated 1942, lower right. Oil on canvas - 26 in. x 32 in.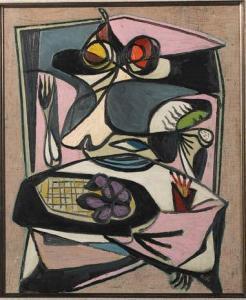 Original 1947
Lot number:
207
Other WORKS AT AUCTION
Description
:
Jan Rode (b. 1914)
An abstract still life
signed lower right rode, and signed again and dated on the reverse'47
oil on canvas
55 x 46 cm
Lot Notes
See colour illustration