Walter Döring
Tweet
(
1914
- &nbsp
1975
)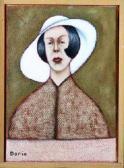 Anderson & Garland
Sep 7, 2010
Some works of Walter Döring
Extracted between 3 works in the catalog of Arcadja
Original
Lot number:
143
Other WORKS AT AUCTION
Description
:
Walter Dorin
(20th Century)
LADY IN A WHITE HAT
signed; inscribed verso
oil on canvas
25.5 x 18cms; 10 x 7 1/4in.
Walter Dorin was born in London and started to paint in 1950 whileworking as a newspaper proof reader. During the late 1950's he tooka six month sabbatical from his newspaper work in order to studypainting in Rome. He continued to live and work in Italy on and offfor more than twenty years; first in Rome and then in Desenzano onLake Garda. Dorin had several one-man exhibitions in Rome, Veniceand other Italian cities. He also travelled extensively in Canadaand the United States, with exhibitions of his paintings in NewYork. Dorin was championed and written about by the art critic andmusician George Melly.