James B. Coy
Tweet
(
1750
- &nbsp
1780
)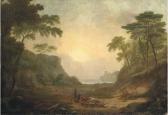 Christie's
May 12, 2005
Some works of James B. Coy
Extracted between 3 works in the catalog of Arcadja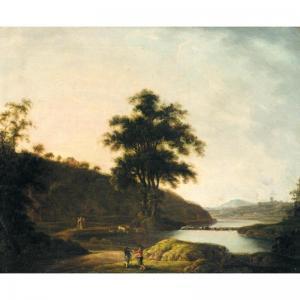 Original 1770
Lot number:
8
Other WORKS AT AUCTION
Description
:
james coy studied landscape painting under robert carver and george mullins. when carver moved to london he offered coy the opportunity of joining him. coy was clearly establishing an independent landscape practice in ireland since this offer was rejected. he seems to have painted scenes predominantly of county wicklow, and in 1770 he won a dubln society premium. while painting for lord altamont at westport, county mayo he caught a chill, of which he later died. his style resembles that of thomas roberts.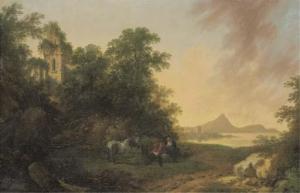 Original 1776
Lot number:
35
Other WORKS AT AUCTION
Description
:
James Coy (c.1750-c.1780)
A wooded coastal landscape with figures and a pony resting beside a path and a ruined tower
signed and dated 'J.B. Coy 1776' (lower left)
oil on canvas
17¾ x 27 in. (45.1 x 68.8 cm.)
Provenance
J. Carpenter Garnier, Rookesbury Park, Wickham, Hampshire; Christie's, 27 July 1928, lot 2 (5 gns. to Collings).
Literature
A. Crookshank and the Knight of Glin, The Painters of Ireland, c. 1660-1920,, London, 1978, p. 111, note 7.
Lot Notes
James B. Coy was a pupil of the landscape painter Robert Carver (fl. 1750-91) and his works are rarely seen. He won a Dublin Society premium and palette and also studied under George Mullins, with whom he was living in 1769 when he sent a landscape to the Society of Artists, where he exhibited between 1769 and 1774. He died from a chill caught when working for Lord Altamont at Westport House, Co. Mayo.
The hill in the background of the picture may be inspired by Creogh Patrick, near Westport, in Co. Mayo.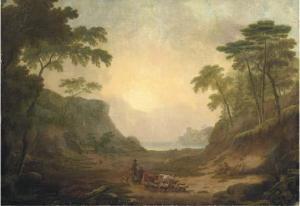 Attributed
Lot number:
36
Other WORKS AT AUCTION
Description
:
Attributed to James Coy (fl. 1769-1780)
A wooded mountainous costal landscape with herdsmen and livestockin the foreground, a cottage and ruins beyond
oil on canvas
34 3/8 x 40¾ in. (88.3 x 103.5 cm.)
Special Notice
Lot Notes
James Coy studied under Robert Carver (1730-1791). He paintedmostly in Co. Wicklow, winning a Dublin Society Premium in 1770,and exhibiting at the Society of Artists between 1769 and 1774. Hiswork is stylistically similar to that of his contemporary ThomasRoberts.