Antoine François J. Claudet
Tweet
Follow the artist with our email alert
(
1797
-&nbsp
1867
)&nbsp-&nbsp
Artworks
Wikipedia® - Antoine François J. Claudet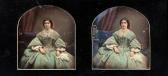 Bloomsbury London /
Nov 10, 2009
€1,112.84 - €1,669.26
€1,557.92
Some works of Antoine François J. Claudet
Extracted between 2 works in the catalog of Arcadja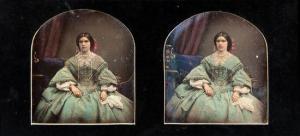 Original
Lot number:
1
Other WORKS AT AUCTION
Description
:
Antoine Jean François Claudet (1797-1867) Stereoscopic daguerreotypes of a seated woman, 1850s Stereoscopic daguerreotypes of a seated woman, 1850s presented in velvet lined leather case with Claudet studio coat of arms, 6.5x6cm (2 1/2 x 2 1/2in).
After 1769
Lot number:
1873
Other WORKS AT AUCTION
Description
:
After Antoine Jean François Claudet
Portrait of the Duke of Wellington (1769-1852), half-length, black coat, holding a book
Add. Notes: oil on board 9 x 7½ in. (22.8 x 19 cm.)Notes: The sitter was the son of Ludwig, Duke of Mecklenburg-Schwerin (1725-1778) and Charlotte Sophie, née Duchess of Sachsen-Coburg-Saalfeld (1731-1810). He married Luise, Princess of Sachsen-Gotha-Roda (1756-1808) on 31 May 1775. Friedrich Franz I succeeded his uncle Friedrich der Fromme to the throne his death in 1785. As related by J. Borchert in Mecklenburg Grossherzöge 1815-1918, 1992, pp.8-30, he decided to keep the Ducal residence in Ludwigslust, built by Friedrich der Fromme. Though spending the winters there with his family, he chose Bad Doberan, the first Seebad in Germany, founded in 1793, as his summer residence. One of his first political acts was to close down Fridericiana, the University that his uncle had built in 1760 in Bützow. He bought back Wredenhagen, Marnitz, Eldena and Plau, that had been pawned to Prussia in 1734. Though Schwerin suffered a great deal from the Napoleonic occupation (in 1807 Friedrich Franz I went into a short exile in Altona near Hamburg), cultural life at the court continued, and the peace-treaty of 1815 the artefacts that Napoleon had seized were brought back from Paris. It was Gebhard Leberecht von Blüchner, a military commander from Schwerin, who came to the Duke of Wellington's aid at Waterloo in June 1815, thus bringing about the defeat of Napoleon. In the same year, Friedrich Franz I received the title of Grand-Duke. Acknowledged as a liberal, peacefully inclined ruler, Friedrich Franz I was, among many things, responsible for the abolition of corporal punishment, as was his nephew Adolf Friedrich IV in Strelitz.