Giacomo Francesco Cipper
Tweet
Italy
(
Voralberg
1664
- &nbsp
Milan
1736
)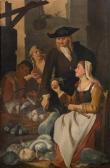 Palais Dorotheum
Apr 25, 2017
Find artworks, auction results, sale prices and pictures of Giacomo Francesco Cipper at auctions worldwide.
Go to the complete price list of works
Follow the artist with our email alert
Variants on Artist's name :
Giacomo Francesco Cipper Detti Il Todeschini
Along with Giacomo Francesco Cipper, our clients also searched for the following authors:
Francesco Ciccio Solimena
,
Eugenio Gignous
,
Henry Moore
,
Joseph Claude Vernet
,
Anders Leonard Zorn
,
Felice Casorati
,
Tito Pellicciotti
,
Giacomo Manzu
,
Alessio Issupoff
,
Giorgio Belloni
,
Lorenzo Gignous
Some works of Giacomo Francesco Cipper
Extracted between 309 works in the catalog of Arcadja
LA BIOGRAFIA DI Giacomo Francesco Cipper
TODESCHINI , Giacomo Francesco Cipper, pittore tedesco attivo fra XVII e il XVIII secolo.
La sua formazione fu di origine nordica, lavorò nell'Italia settentrionale soprattutto a Bergamo e a Brescia, prediligendo soggetti popolareschi.