Leo Cherne
Tweet
XX Century -&nbsp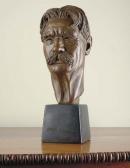 Christie's
Dec 16, 2005
Some works of Leo Cherne
Extracted between 2 works in the catalog of Arcadja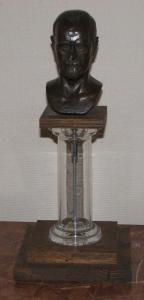 Original 1958
Lot number:
174
Other WORKS AT AUCTION
Description
:
Artist: Cherne, Leo
Title: Bust of a Man on Acrylic and wood base
Date: 1958
Medium: painted plaster with acrylic and wood base
Dimensions: 14.25 x 6.5 x 6.5 inches
Signature: incised 1958 Leo Cherne on edge
Condition: In generally good condition apart from some wear to the nose.
Provenance: The Estate of Millie and Dr. Leonard Schwartz
Frame Type:
Frame Size: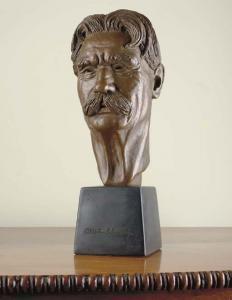 Original 1955
Lot number:
207
Other WORKS AT AUCTION
Description
:
Leo Cherne, 20th Century
Bust of Albert Schweitzer
inscribed '© 1955 LEO CHERNE' (on the back of the neck); and inscribed 'Albert Schweitzer' (on the front of the base)
painted plaster
9¾ in. (24.8 cm.) high
Special Notice
This lot is offered without reserve.
Lot Notes
Albert Schweitzer was born on 14 January 1875 in Kaysersberg, a town near Strasbourg in Alsace, Germany (now part of France). He dedicated his life to the study of music, philosophy, science and theology. In 1913 he founded a hospital in Lambaréné , in French Equatorial Africa and as a result of his continuing humanitarian efforts went on to win the Nobel Peace Prize in 1952. He was also awarded the "Order of Merit", Britian's highest civilian honor by Queen Elizabeth II. Albert Schweitzer died on 4 September 1965, and was buried at Lambaréné.