A. Cedro
Tweet
XX Century -&nbsp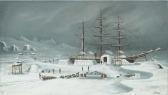 Christie's
May 9, 2002
Some works of A. Cedro
Extracted between 2 works in the catalog of Arcadja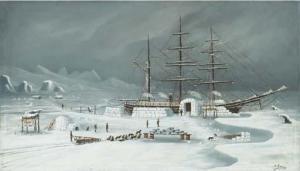 Original
Lot number:
90
Other WORKS AT AUCTION
Description
:
A. Cedro (20th Century)
Peary's Roosevelt overwintering
signed 'A. CEDRO' (lower left)
oil on canvas
35 x 61in. (89 x 155cm.)
Lot Notes
Designed by Peary to force its way through icefields, the Roosevelt took Peary on his final two assaults on the North Pole. She sailed from New York in July 1905 and wintered at the north coast of Grant Land in 1905-1906, Peary setting out on his dash to the Pole in February 1906 and reaching to within 174 miles from the Pole, returning in the Roosevelt to New York in the same year. Peary's narrative of the expedition 'Nearest the Pole' was published in the following year. She set out again in 1908 on Peary's final expedition, reaching 82°30'N, a record latitude for a ship under its own steam. Peary left from Cape Columbia in March 1909 after overwintering, returning in the Roosevelt to cable news from Indian Harbour, Labrador that he had attained the Pole just days after Frederick A. Cook had made his claim to have reached the Pole a year earlier, in April 1908.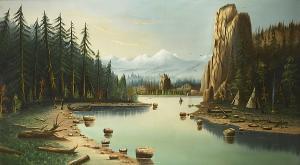 Original
Lot number:
20
Other WORKS AT AUCTION
Description
:
(n/a) A. Cedro (active 1890-1910)
Indian Encampment near Mount Shasta
signed 'A Cedro' (lower center)
oil on canvas
36 x 66in