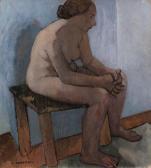 Finarte
May 11, 2016
Along with Felice Casorati, our clients also searched for the following authors:
Jean-Baptiste-Camille Corot
,
Alessio Issupoff
,
Tito Pellicciotti
,
Oreste Albertini
,
Giorgio Belloni
,
Henry Moore
,
Giacomo Manzu
,
Giacomo Francesco Cipper
,
Lorenzo Gignous
,
Giuseppe Magni
,
Peter Paul Rubens
Some works of Felice Casorati
Extracted between 593 works in the catalog of Arcadja
LA BIOGRAFIA DI Felice Casorati
Novara, 4 dicembre 1883 - Torino, 4 marzo 1963 Inizia a dipingere durante un periodo di riposo trascorso a Praglia, sui Colli Euganei.
La sua prima opera nota è un paesaggio padovano datato 1902.
Nel 1906 si laurea in Legge all'Università di Padova, decidendo tuttavia di dedicarsi all'attività artistica.
Allievo di G.
Vianello, si segnala nel 1907 alla Biennale di Venezia con Ritratto di Signora, un'elegante immagine della sorella Elvira.
Nel 1917, alla morte del padre, si trasferisce a Torino, diventando una figura centrale della vita artistica e intellettuale della città, favorendo mostre audaci e controcorrente.
I lavori dei primi anni Dieci risentono da un lato dello stile simbolico e decorativo della Secessione Viennese, in particolare G.
Klimt, dall'altro della lezione costruttiva di P.
Cèzanne.
Durante gli ultimi anni del decennio si avvicina agli artisti di Ca' Pesaro (Arturo Martini, G.
Rossi, P.
Semeghini), indirizzandosi verso una più decisa stilizzazione simbolica, evidente in particolare nella grafica.
Negli anni Venti, a contatto anche con la pittura metafisica, approfondisce la meditazione sulla forma essenziale, recuperando le costruzioni spaziali matematiche della pittura quattrocentesca e, in particolare, l'atmosfera di immobilità tipica di Piero della Francesca.
Dal 1945 il suo linguaggio pittorico segna un ulteriore scarto verso toni più accesi e contorni più accentuati e continui.
E' stato attivo come scenografo e costumista per il Teatro dell'Opera di Roma e la Scala di Milano e ha eseguito anche alcune sculture in bronzo e terracotta.