Charles Emile Carolus-Duran
Tweet
France
(
1838
-&nbsp
1917
)&nbsp-&nbsp
Artworks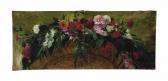 Christie's /
Feb 5, 2013
€7,503.56 - €11,255.35
Not disclosed

Find artworks, auction results, sale prices and pictures of Charles Emile Carolus-Duran at auctions worldwide.
Go to the complete price list of works
Follow the artist with our email alert
Variants on Artist's name :
Durand Charles Émile Aug.
Duran Carolus
Carolus-Duran Charles Émile
Some works of Charles Emile Carolus-Duran
Extracted between 111 works in the catalog of Arcadja
LA BIOGRAFIA DI Charles Emile Carolus-Duran
CAROLUS-DURAN , pseudonimo di Charles-Emile-Auguste-Durand, pittore francese, nasce a Lilla nel 1837.Direttore dell'Accademia di Francia a Roma dal 1904 al 1913, ebbe fama come ritrattista mondano nei modi di Singer Sargent.
Predilesse la pittura di Courbet e di Velàzquez, senza mai liberarsi, tuttavia, da un mondano decorativismo.