Filippo Carcano
Tweet
Italy
(
Milano
1840
- &nbsp
1914
)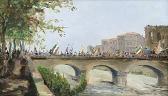 Galerie Bassenge
May 26, 2017
Along with Filippo Carcano, our clients also searched for the following authors:
Francesco Ciccio Solimena
,
Giacomo Francesco Cipper
,
Emma Ciardi
,
Anders Leonard Zorn
,
Tito Pellicciotti
,
Felice Casorati
,
Joseph Claude Vernet
,
Claude Monet
,
Giorgio Belloni
,
Giuseppe Magni
,
Giacomo Manzu
Some works of Filippo Carcano
Extracted between 87 works in the catalog of Arcadja
LA BIOGRAFIA DI Filippo Carcano
CARCANO Filippo , pittore italiano, nasce a Milano nel 1840.
Allievo di Hayez a Brera, si distaccò dall'iniziale romanticismo, dipingendo quadri di genere e interni con una tecnica quasi puntinista, molto osteggiata dalla critica.
Dal 1876 si dedicò allo studio del paesaggio lombardo, affermandosi come precursore del naturalismo lombardo di fine secolo.