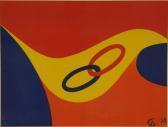 Quinn & Farmer
Jul 26, 2018
Find artworks, auction results, sale prices and pictures of Alexander Calder at auctions worldwide.
Go to the complete price list of works
Follow the artist with our email alert
Variants on Artist's name :
Calder Alexandre
Along with Alexander Calder, our clients also searched for the following authors:
Mimmo Rotella
,
Alberto Biasi
,
Paul Jenkins
,
Lyonel Charles Feininger
,
Franco Costalonga
,
Valerio Adami
,
Franco Angeli
,
Donald Baechler
,
Pino Pascali
,
Mario Schifano
,
Piero Gilardi
Some works of Alexander Calder
Extracted between 6,006 works in the catalog of Arcadja
LA BIOGRAFIA DI Alexander Calder
CALDER Alexander CALDER Alexander scultore statunitense nato a Filadelfia nel 1898 e morto a New York nel 1976.
Studiò ingegneria e fece svariati mestieri tra cui il taglialegna.
Nel 1926 a Parigi realizzò le prime sculture in fili di ferro.
Nel 1932 entrò a far parte del gruppo "Abstraction Creation".
Nel 1958 una sua opera di grandi dimensioni fu collocata a Parigi all'ingresso della sede U.N.E.S.C.O.