William Gordon Burn Murdoch
Tweet
(
1862
- &nbsp
1939
)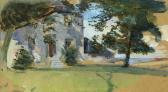 Ewbank Auctions
Sep 12, 2018
Some works of William Gordon Burn Murdoch
Extracted between 2 works in the catalog of Arcadja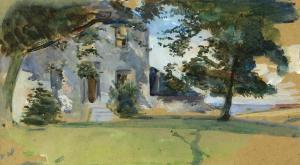 Original 1905
Lot number:
1578
Other WORKS AT AUCTION
Description
:
William Gordon Burn Murdoch (British, 1862-1939), 'Milldown, August, 1905', unsigned, watercolour sketch, 18cm x 31.5cm, handwritten label verso reading 'Milldown, House near Coldingham, Berwickshire, rented by us as summer quarters in 1903, and again in 1905. Sketch made by W. G. Burn Murdoch when staying with us there in August 1905. W. K. D.',.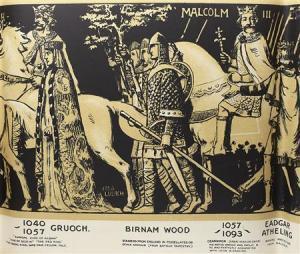 Original
Lot number:
159
Other WORKS AT AUCTION
Description
:
Lot 159

WILLIAM GORDON BURN-MURDOCH (1862-1939)
A PROCESSION OF SCOTTISH HISTORY, EARLY 20TH CENTURY
'Showing the Succession of Scottish Kings and the Principal Figures of their Reigns, from the Time of Duncan and Macbeth, in their Proper Arms and Costumes', approx. 20 sets of 10 lithographs (sold with all faults)
Total length, 1402cm, depth, 50.8cm deep

Estimate £300-500

Note: William Burn-Murdoch was a Scottish artist and traveller, who undertook polar expeditions. He was a close friend of Patrick Geddes, and the designs were made in connection with Geddes' plans to add a mural or decorative frieze to the facade running around the Castlehill Water Reservoir, located next to the Outlook Tower, Edinburgh. At this time there was a revival in mural decoration in public buildings in Edinburgh - such as the mural decorations by Phoebe Traquair at the Mansfield Church and the Edinburgh Hospital of Sick Children, and by John Duncan and Charles Hodge Mackie at Ramsay Lodge. There is a similar frieze by W.B. Hole in the Scottish National Portrait Gallery. These sets of 10 large lithographs were printed as a limited edition as either a teaching aid or for interior decoration. They were always expensive items - when first retailed at the beginning of the 20th century the set retailed at £2 2s for a tinted copy and £1 10s for a black and white copy.