William Bromley Jr
Tweet
(
1818
- &nbsp
1888
)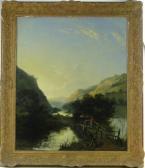 Burstow and Hewett
Sep 24, 2014
Some works of William Bromley Jr
Extracted between 3 works in the catalog of Arcadja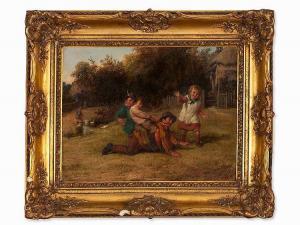 Original 1885
Lot number:
22
Other WORKS AT AUCTION
Description
:
Lot 22: William Bromley (1818-1888), Painting, Children Playing, 1885
Description:

Oil on canvas

London, England, 1885

William Bromley (1818-1888) - English painter

Signed lower right 'W. Bromley'

Dimensions: 36 x 46 cm

Provenance: Private collection Mecklenburg-Vorpommern

Characteristic genre scene by the British artist whose depictions of children at play are very sought after; the auction record for one of his paintings is currently set at €33,000
The present painting by William Bromley depicts a lovely composition with playing children in a pastoral environment - a characteristic theme from the oeuvre of the British painter. Three boys are frolicking around while a little girl cheerfully waves at the viewer. With a harmonious color scheme Bromley created a merry atmosphere and captured the light-heartedness of childhood.

The painting is signed lower right 'W. Bromley'. The verso of the stretcher bears an old handwritten label 'No. 8 The ... W. Bromley ...' and a printed label 'W. Bromley 85 Children Playing Pick-a-back' There are color losses in the upper margin, the varnish is minimally browned. In the center of the image there are a few tiny stains and a retouching. The frame shows some loss of material. The framed work measures 52.5 x 62.5 cm, the stretcher measures 36 x 46 cm.

William Bromley (1818-1888)

William Bromley was the grandson of the famous engraver William Bromley and initially worked as an engraver himself but soon turned to painting. He created primarily rural genre scenes with children playing in idyllic landscapes. As a member of the Royal Society of British Artists he exhibited over 187 of his works in Suffolk Street during his lifetime. Between 1844 and 1870 many of his works were shown at the Royal Academy and the British Institution. Some of Bromley's paintings are held in the Harvard University Art Museum, Massachusetts and the Manchester City Art Gallery. (tfa)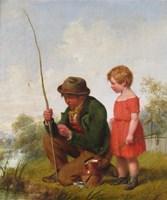 Original
Lot number:
446
Other WORKS AT AUCTION
Description
:
Wiliam Bromley (c.1818-c.1888) Baiting the hook Oil on canvas 35 x 30.5cm; 13¾ x 12in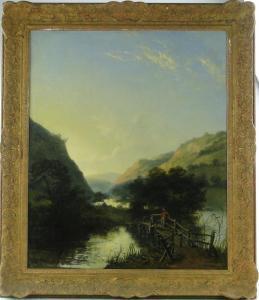 Original 1818
Lot number:
410
Other WORKS AT AUCTION
Description
:
William Bromley Junior (circa 1818-1888) oil on canvas, the young anglers, 30" x 25", framed.