Edmond Brock
Tweet
(
1800
- &nbsp
1900
)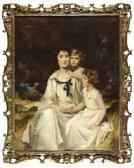 Lyon & Turnbull
May 29, 2008
Some works of Edmond Brock
Extracted between 2 works in the catalog of Arcadja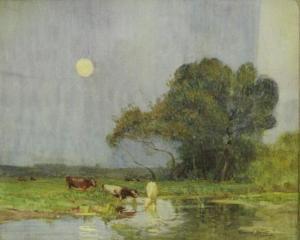 Original
Lot number:
76
Other WORKS AT AUCTION
Description
:
Edmond Brock

(British 1870-1938)

Cattle Watering

signed Edmond Brock and dated 1915 lower right

watercolour

h:43.50 w:53.50 cm

Other Notes: Exh 1903-1938

Portait painter in oil. Painted Queen Elizabeth and 2 princesses.

Son of Sir Thomas Brock RA 1847-1922, Sculptor. Among his works is the Victoria memorial fountain outside Buckingham Palace.

Charles Edmund Brock was a portrait painter who changed his name to Edmond Brock so as not to be confused with Charles Edmund Brock 1870-1938 of Cambridge, who with his brother Henry Mathew Brock 1875-1960, was one of the foremost illustrators of classic novels. CE Brock excelled at historically accurate illustrations of 18th C period -Austen, Goldsmith, Lamb, Swift etc.

1912-19 takes lease of The Studio, with bedroom in The Boathouse, Hemigford Grey from Giddins family. Ref. contract of 7 year lease in Huntington Record Office, Accession 117. What brought him to Hemigford Grey and why did he rent the studio? Was he or his father an associate of WD Sadler? A fisherman? No local pictures have hitherto been seen.

Best friend of Frank Beresford-see diaries etc.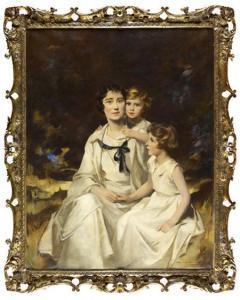 Original
Lot number:
140
Other WORKS AT AUCTION
Description
:
This beautifully observed group portrait of Elizabeth, the Queen Mother and her daughters, Princess Margaret Rose and Princess Elizabeth, now Queen Elizabeth II, is a fine example of the work of Edmond Brock. The son of sculptor Sir Thomas Brock, who built the Victoria Memorial in front of Buckingham Palace, Edmond rose to prominence through his talent for portraiture. His reputation travelled across the Atlantic and he crossed over to America several times to paint sitters such as the Countess of Granard, Ogden Mills and Marshall Field.
In England, his sitters included the Earl of Dalkeith, Viscountess Castlereagh and the children of numerous members of high society. He painted several portraits of Princess Elizabeth before her eighth birthday and went on to paint several others of her sister Princess Margaret. In a letter to the artist from 1952, Elizabeth II acknowledges that her father, King George VI, held the portraits of her and her sister in very high esteem and always had one in his sitting room at Buckingham Palace.
Uniquely, a letter from Her Majesty, the Queen Mother commissioning this work survives and will be sold with this painting. Following the portraits he painted of Princess Elizabeth, Brock was in correspondence with the Queen regarding a portrait of her younger daughter, Princess Margaret, three years old at the time, when the Queen requested that a group portrait be painted of her with her two daughters. They sat for the portrait in the artist''s studio in Piccadilly and Brock is said to have painted several versions of the oil before being satisfied with the result. He destroyed five or six versions which he considered unsuccessful.
From correspondence we know that the princesses, even at such a young age, remembered the visits to the studio, and having to pass messages to the artist in sign language as he was rather hard of hearing. Brock must have had a particularly kind and engaging manner as it must have been difficult to persuade children to sit still long enough for him to paint them.
In his composition Brock refers to the enduring English tradition of group portraiture, whilst also nodding to Renaissance art, and even Leonardo''s seminal The Virgin, and child with St Anne now in the Louvre. The composition is a solid pyramid with the head of the Queen Mother at its apex and her dress and Princess Elizabeth forming the base. Precedents of this subject include Sir Joshua Reynolds'' Charlotte Grenville and her children in the National Museum of Wales and .Elisabeth Vigée-Lebrun''s Queen Marie-Antoinette and Her Children, currently at the Chateau de Versailles. In the relaxed poses of the princesses seated by their mother and the natural outdoor setting of the sitters, this portrait is much more informal than these earlier examples. Princess Margaret has wrapped her arms around her mother playfully, whilst Princess Elizabeth is seen in profile, holding her mother''s right hand and gazing out of the frame. The older daughter''s more pensive mood and her relationship with her mother indirectly implies the responsibility and power which are to be invested in her in later life. The right hand of the Queen Mother almost seems to hand down power to the right hand of the seated princess.