Giuseppe Bonnici
Tweet
(
1834
- &nbsp
1900
)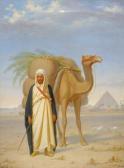 William Doyle
Jun 7, 2006
Some works of Giuseppe Bonnici
Extracted between 2 works in the catalog of Arcadja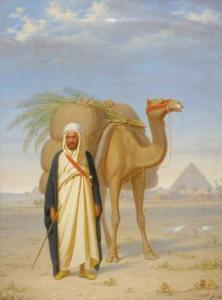 Original
Lot number:
2022
Other WORKS AT AUCTION
Description
:
Giuseppe Bonnici
Italian, 1834-1900
AN ARAB TRAVELER BEFORE THE PYRAMIDS
Signed
G. Bonnici
(lr)
Oil on canvas
20 x 15 inches

Frame rubbing. Visible stretcher marks. Dirty varnsih, scatteredcracquelure. 1 1/4 inch scratch with tiny paint flakes at upperright and 1 inch repaired tear just above it with correspondingpatch on the reverse and inpainting. 3 tiny repaired old punctureswith corresponding patches and inpainting, 2 at the far right andone at the lower right center. Scuff at left edge. Other minorspots of inpainting scattered throughout the sky, no apparentrestoration in the figure.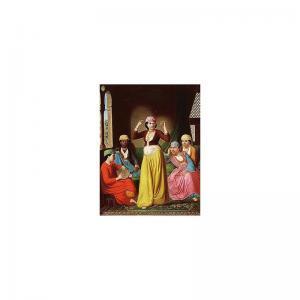 Original
Lot number:
122
Other WORKS AT AUCTION
Description
:
giuseppe bonnici italian, 1834-1900 a woman dancing in a harem signed l.l.: g.bonnici/1864 oil on canvas 76.5 by 58.5 cm., 30 by 23 in