Alfred Edmeades Bestall
Tweet
(
1892
- &nbsp
1986
)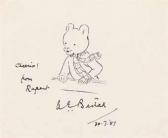 Christie's /
Dec 7, 2010
€467.73 - €701.59
€1,475.50

Some works of Alfred Edmeades Bestall
Extracted between 3 works in the catalog of Arcadja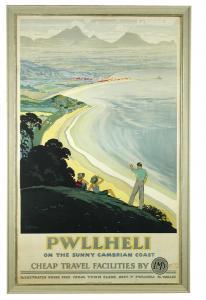 Original
Lot number:
228
Other WORKS AT AUCTION
Description
:
Alfred Bestall (British, 1892-1986), Pwllheli, on the sunny Cambrian coast, lithograph in colours, printed by Greycaine Ltd., London & Watford 100 x 62cm (39 x 24in) Other Notes: This rare LMS poster, with an identical GWR version, is believed to be the only railway poster illustrated by Alfred Bestall - who is regarded by many as the greatest artist ever to have illustrated the Rupert Bear articles and annuals.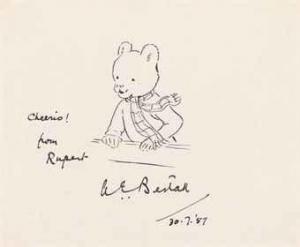 Original 1957
Lot number:
470
Other WORKS AT AUCTION
Description
:
Alfred Edmeades Bestall (1892-1986) 'Cheerio! from Rupert' signed and dated 'A.E.Bestall/30.7.'57' (lower right) and inscribed 'Cheerio!/from/Rupert' (centre left) pen and black ink, unframed 4 x 4¾ in. (10.2 x 12.1 cm.) A.E. Bestall This sketch of Rupert Bear was given to the vendor by Alfred Bestall when he was 10 years old. The vendor and his sister were staying with family friends in Beddgelert, Wales, when they met Bestall. Bestall's diary entry for 30 July 1957 records meeting the pair for tea, and the following day records that he 'Called at Noddfa to return autograph albums, only Mrs Horton there.' This charming drawing was done on a page of one of these autograph albums.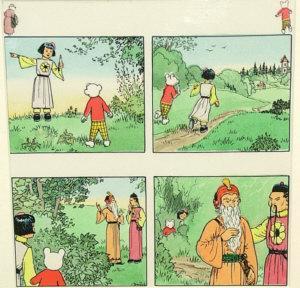 Original
Lot number:
783
Other WORKS AT AUCTION
Description
:
Alfred Bestall 1892-1986- Rupert the Bear; original art work for the Rupert annual, printed on acetate with background colouring possibly by Doris Campbell, signed, four illustrations on a single sheet, 22x21cm