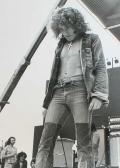 Le Calvez
Mar 23, 2014
Some works of Jacques Bernard
Extracted between 3 works in the catalog of Arcadja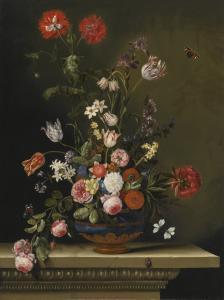 Original 1979
Lot number:
87
Other WORKS AT AUCTION
Description
:
Jacques Bernard

PARIS 1615 - 1687

STILL LIFE OF ROSES, TULIPS, POPPIES, NARCISSI AND OTHER FLOWERS IN A LAPIS LAZULI VASE RESTING ON A LEDGE, WITH BUTTERFLIES AND A BEETLE

signed and dated lower right: JS. Bern: d fecit / A

o

: 1660

oil on canvas

46 1/2 by 35 in.; 118.1 by 88.9 cm.

Provenance

Anonymous sale ("The Property of a Lady"), London, Christie's, 26 November 1971, lot 21 (as by Rachel Ruysch and signed);

With Richard Green, London, 1972;

With Alexander Gallery, London;

From whom purchased by the present collector, circa 1979.

Literature

E. Coatalem, La nature morte française au XVIIe siècle, Dijon 2014, p. 81, reproduced.

Catalogue Note

Although Bernard was successful in his time as a portrait painter, miniaturist, and print-maker, he is best known today for his still lifes, which often reflect the influence of northern artists. The present work, for example, is similar in style and format to works by Jean-Michel Picart, a Flemish artist who also lived and worked in Paris.

1

The present work also relates to other still lifes by Bernard, including one formerly with P. de Boer which is signed and dated 1663, as well as one sold in these Rooms 28 January 1999, lot 283.
2

1. See the painting by Picart sold in these rooms, 30 January 1998, lot 50.

2. For the painting formerly with P. de Boer, see M. Faré, Le Grand Siècle de la Nature Morte en France, Le XVIIe Siècle, Fribourg 1974, pp. 258-259, reproduced p. 258.