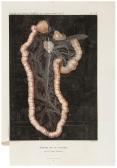 Some works of Claude Bernard
Extracted between 1 works in the catalog of Arcadja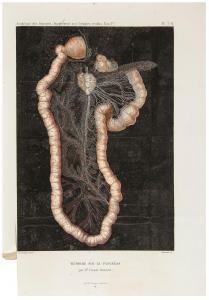 Original -
Lot number:
208
Other WORKS AT AUCTION
Description
:
Bernard (Claude)
Mémoire sur le pancréas et sur le role du suc pancréatique dans les phénomènes digestifs

,

comprising pp.379-563 in

Supplément aux Comptes Rendus… de l¬adémie des Sciences,

with 5 folding stipple-engraved and aquatint plates by Borrombe after Bernard, Lackerbauer and Leveillè, 3 hand-coloured, half-title, with 23 further hand-coloured engraved plates relating to other parts of the Supplement, contemporary wrappers, 4to, Paris

, 1856.

⁂ First issue of the seminal work on the role of the pancreas by the French physiologist Claude Bernard (1813-78). "In 1846 Bernard began studying the pancreatic juices and their role in digestion … By observing the processes of digestion in dogs and rabbits, and by experimentation with pure pancreatic juices collected from temporary pancreatic fistulae, Bernard was able to show that pancreatic juices made fats absorbable by breaking them down into fatty acids and glycerine" (Grolier Medicine). It was first published thus in Volume I of the l¬adémie des Sciences' Supplement, and also in a small "Monograph" issue.