Guillermo Martin Bermejo
Tweet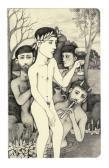 Some works of Guillermo Martin Bermejo
Extracted between 1 works in the catalog of Arcadja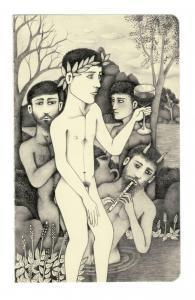 Original
Lot number:
2104461
Other WORKS AT AUCTION
Description
:
Item No. 2104461 : Guillermo Martin Bermejo,
The Triumph of Bacchus,

2010 D7CF
Description
Pencil on paper,

signed in pencil on the reverse,
unique.
Directly from the artist.
8 1/4 x 5 1/4"
Condition
Artwork is in excellent condition.
"Artist born in Madrid (Spain) in 1971. His recent work isentirely dedicated to drawing on paper. Trying to rediscover oldstories in a personal language. He has exhibited in cities such asMadrid,

London,

Basel,

Berlin,
Brussels,

Bogota,

Mexico City ... And hiswork can be seen in shows such as Scope,

Arco,
Maco and Zoo.