Anatoli Pavlovich Belskii
Tweet
(
1896
- &nbsp
1971
)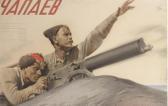 Some works of Anatoli Pavlovich Belskii
Extracted between 1 works in the catalog of Arcadja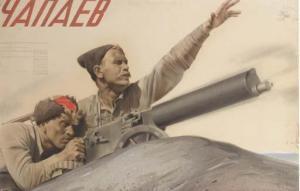 Original 1935
Lot number:
114
Other WORKS AT AUCTION
Description
:
ANATOLI PAVLOVICH BELSKII (1896-1971)
Poster design for the film 'Chapaev'
signed 'A.Belskii' (lower right)
pencil, gouache and watercolor on cardboard
24¼x36.3.4in. (62x93.4cm.)
executed in 1935
Lot Notes
Anatolii Pavlovich Belskii (1896-1971) was a graphic artist and theater deisgner. Born in Moscow, he studied with V.E. Egorov at the Stroganov College 1908-1917. After the revolution he studied under Konchalovski and F.F. Fedorovski at the Moscow Vkhutemas 1917-1921.
He was engaged in propaganda decorations including work on the Agit-train Lenin (October Revolution) c. 1920. He executed designs for Mayakovski's Mystery-Bouffe in 1921 as well as other theatrical productions. In 1928 he was involved in the installation of the Soviet Pavilion at the International Exhibition in Philadelphia. He designed cinema posters from the 1920's to the 1950's including Aleksandr Nevsky 1936.