Daisy Maude Bellis
Tweet
(
1887
)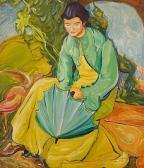 Some works of Daisy Maude Bellis
Extracted between 1 works in the catalog of Arcadja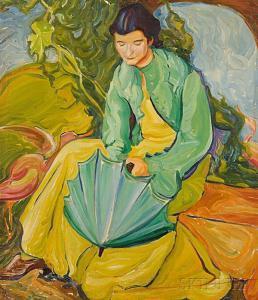 Original
Lot number:
1164
Other WORKS AT AUCTION
Description
:
Daisy Maude Bellis (American, 1897-1971)
Old Fashioned Girl - Life Study
. Signed "D.M. Bellis" l.l., frame plaque reads "WPA Federal Works Project." Oil on canvas, 34 x 30 in., framed. Condition: Minor surface grime, small puncture l.c.
N.B. This work is listed in the Connecticut State Library, State Archives, RG 033, Works. The work once hung at the Cedarcrest Sanatorium, Hartford, a children's Tuberculosis treatment center.
Daisy Maud Bellis was born in Waltham, Massachusetts, on February 16, 1887. She studied art at the Massachusetts School of Art, the University of Vermont, Breckenridge School of Painting, and in schools and studios in Montreal and Paris. In 1936 she was elected as a Fellow at the Royal Society of Arts in London. Bellis taught art at Salem College, Winston Salem, North Carolina, and at McDonald College, McGill University Montreal, Canada. She painted approximately 80 easel paintings for the WPA Federal Arts Project. Her works were allocated to the Laurel Heights, Undercliff, and Cedarcrest Sanatoria, the Connecticut State Farm for Women at Niantic, the Middlesex County Temporary Home, and Fairfield Hills Hospital. Bellis also led art instruction courses sponsored by the WPA.