A. Bargelli
Tweet
XX Century -&nbsp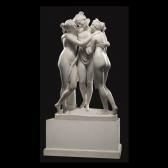 Some works of A. Bargelli
Extracted between 1 works in the catalog of Arcadja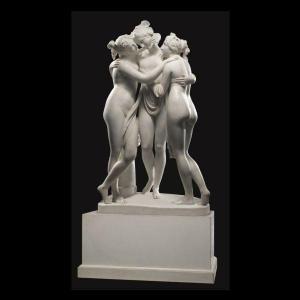 Original -
Lot number:
60
Other WORKS AT AUCTION
Description
:
A. BARGELLI
ITALIAN, ITALIAN SCHOOL, 20TH CENTURY
THREE GRACES
150,000—250,000 USD
measurements
height of group only 68 1/2 in., height overall 89 1/2 in., widthof base 42 3/4 in.
174 cm., 227.5 cm., 109 cm.
Description
signed Galleria Bazzanti/Scultore A. Bargelli/FIRENZE
white carrara marble, on a later white marble base
The Three Graces-Aglaia, Euphrosyne, and Thalia-individuallyrepresent qualities revered by the ancient Greeks: splendor, mirth,and good cheer, respectively. Together, they personified grace andcharm, and were expected to entertain and amuse the Olympians.According to Edith Hamilton, the role of the three sisters wassimply to delight the gods of Olympus, and merriment and visualpleasure were their principle assets. "They are not treated asseparate personalities, but always together, a triple incarnationof beauty and grace...they give life its bloom." (Edith Hamilton,Mythology, 1969, p. 37) It was the poet Hesiod who names the Gracesin his Theogony, "then Eurynome, Ocean's fair daughter, bore toZeus the three graces, all fair-cheeked, Aglaia, Eurphrosyne, andshapely Thalia; their alluring eyes glance from under their brows,and from their eyelids drip desire that unstrings the limbs." Stillother stories claim the Graces as the maids of the love goddessAphrodite.In the first half of the 19th century the Neoclassical sculptorBertel Thorvaldsen created his version of The Three Graces,followed by James Pradier's own sensuous rendition. Between 1812-16the masterful neoclassical sculptor Antonio Canova created TheThree Graces for the Empress Josephine and received great criticalacclaim. Not only a master carver, Pietro Bazzanti owned the gallery inFlorence that bore his name. His clientele consisted mainly ofamateur collectors commonly referred to as, "Grand Tourists". Knownto house and employ the best sculptors of their generation, thepresent lot, by one of Bazzanti's protégé is a very finerendition of one of the most celebrated and recognized marblefigural group.