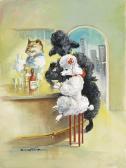 Some works of Eulalie Banks
Extracted between 1 works in the catalog of Arcadja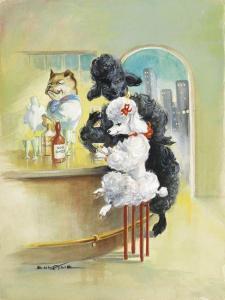 Original 1950
Lot number:
155
Other WORKS AT AUCTION
Description
:
EULALIE [BANKS.]
Two signed watercolors.
"This Bar Will Close At 12 P.M." * "Dog Daze." Two watercolors for an unidentified publication. Each 405x305 mm; 16x12 inches. Signed in ink lower left. Circa 1950.

Estimate $800-1,200

London-born "Eulalie" was a highly prolific and popular children's book illustrator. She was only 15 when she began selling illustrations to magazines and illustrated her first children's book when she was 18. She also drew greeting cards and calendars and was a highly successful mural painter. She died at the age of 104 in Sherman Oaks, Ca.