Terence Bailey
Tweet
(
1941
)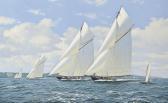 Some works of Terence Bailey
Extracted between 1 works in the catalog of Arcadja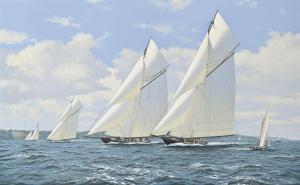 Original
Lot number:
164
Other WORKS AT AUCTION
Description
:
Terence Bailey, R.S.M.A. (Manchester b.1941)
Valkyrie (II)
and
Navahoe
in a close duel off Cowes, 1893 signed 'bailey -' (lower right) oil on canvas 30 x 48 in. (76.2 x 121.9 cm.)
In a determined effort to win back the America's Cup, held by the Americans since its inception in 1851, the Earl of Dunraven commissioned George L. Watson to design Valkyrie (II) for him to mount a challenge in 1893. Built by D. & W. Henderson on the Clyde and registered at 95 tons, she measured 118 feet overall and was regarded as a serious adversary, the moment her opponents first saw her.

Navahoe, a composite steel sloop of 113 tons (gross), was designed and built by Nat Herreshoff at Bristol, Rhode Island for Mr. Royal Phelps Carroll of New York in 1893. Specifically intended as a challenger for several prestigious British trophies, Navahoe had a disappointing maiden season but soon went on to enjoy great success, not only under Carroll but also with her second owner (from 1901), the immensely wealthy German banker and ship-owner George W. Watjen of Bremen.