R. Ba Kovira
Tweet
XX Century -&nbsp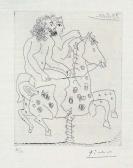 Christie's
Mar 28, 2007
Some works of R. Ba Kovira
Extracted between 2 works in the catalog of Arcadja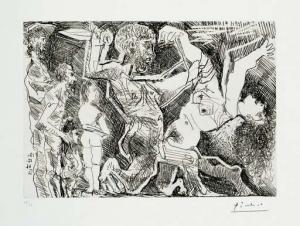 Original 1981
Lot number:
372
Other WORKS AT AUCTION
Description
:
Pablo Picasso
Meutre, avec Spectateurs (B. 1436; Ba. 1466 Ba)
Add. Notes: etching, 1966, on wove, with the stamped signature, numbered 48/50 (there were also 15 artist's proofs), published by Galerie L. Leiris, 1981, with wide margins, a deckle edge at right, in very good conditionP. 222 x 320 mm., S. 376 x 470 mm.Notes: Rembrandt took the female nude as a subject early on, returning to it several times, and in the course of the last three years of his etching career he produced no less than six prints on this theme. They all impress with the same stark, monumental quality of the drawings he produced at the time.Fairly common in late impressions, Woman bathing her Feet at a Brook is exceptionally rare in early impressions such as this. The figure is modelled by means of an open system of parallel lines and cross-hatching, giving the composition something of a drawing-like effect, without sacrificing any of its power. The model has been placed in a rather harsh light, but the effect is softened by being printed on a warm-toned yellowish Japanese paper - a scarce and expensive commodity in 17th century Holland.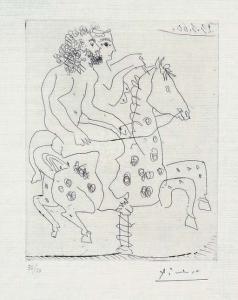 Original 1980
Lot number:
363
Other WORKS AT AUCTION
Description
:
Pablo Picaso
Sur les Chevaux de Bois (B. 985; Ba. 1070 Ba)
Add. Notes: etching, 1960, on thin laid paper watermark Taureau, with the stamped signature, numbered 36/50 (there were also 17 artist's proofs), published by Galerie L. Leiris, Paris, 1980, with wide margins, a deckle edge below, in very good conditionP. 225 x 176 mm., S. 366 x 261 mm.Notes: In 1810 Heneage Finch, the 5th Earl of Aylesford, bought the complete Ploos van Amstel-collection of Rembrandt prints, which at the time was one of the earliest, finest and largest collections still in existence. By 1847 the London dealer William Smith had acquired the collection and began to disperse it. On 3 May that year, he wrote to the British Museum, who subsequently bought a large part of the collection: 'The Aylesford collection I believe has always been considered by collectors on the whole as the finest as regards condition and extent in the world'. (Quoted in Landmarks in Print Collecting, A. Griffiths (ed.), London, 1996)