Leopold Axtmann
Tweet
Czech Republic
(
1700
-&nbsp
1748
)&nbsp-&nbsp
Artworks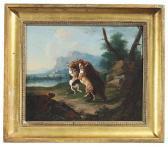 Nagel /
Mar 21, 2007
€4,000.00
Not Sold

Find artworks, auction results, sale prices and pictures of Leopold Axtmann at auctions worldwide.
Go to the complete price list of works
Follow the artist with our email alert
Variants on Artist's name :
Axtmann Léopold
Some works of Leopold Axtmann
Extracted between 3 works in the catalog of Arcadja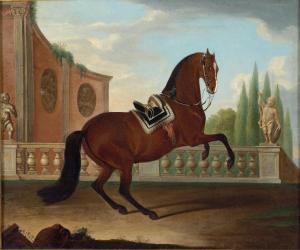 Original
Lot number:
314
Other WORKS AT AUCTION
Description
:
Johann Leopold Axtmann (Fulnek/Moravia 1700–1748 Prague) A bay at the imperial stud, performing a Levade, signed bottom left: Johan Leopold Axman f., oil on canvas, 54 x 64 cm, framed The Andalusian stallion is shown performing a Levade, with a park landscape in the background. The wall is decorated with two reliefs, a Roman emperor on the left and a Turkish sultan on the right. This may be an iconographic allusion to the epic conflict between the Habsburg monarchy and the Ottoman empire, but at the same time gives a hint regarding the patron who probably commissioned this painting. Johann Leopold Axtmann was the most important student of the equestrian painter Johann Georg von Hamilton. In later years, he served with Count Franz Joseph Czernin von Chudenitz.