Henry Ashton
Tweet
1800-1900 Century -&nbsp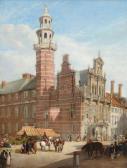 Mercier & Cie
Oct 15, 2017
Some works of Henry Ashton
Extracted between 3 works in the catalog of Arcadja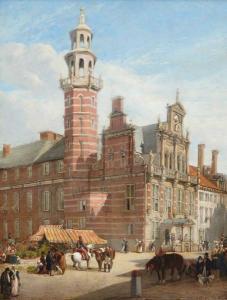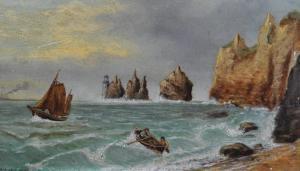 Original 1888
Lot number:
267
Other WORKS AT AUCTION
Description
:
Lot: 267

H Ashton Oil on board,

West Country beach scene,

signed and dated 1888,

6.5" x 11.5",

framed.

Est:
£50/£80

Original
Lot number:
99
Other WORKS AT AUCTION
Description
:
Office of Henry Ashton (1801-1872)
Plans and Elevations of Windsor Castle and its Estate Buildingsnumbered and variously inscribed including; 'a View of QueenElizabeth, King Henry VII, and King Charles II Buildings and KingJohn Tower Upper Ward, Windsor Castle; South elevation from HenryIII tower to Solesbury Tower West; a View of Queen Elizabeth, KingHenry VII, & King Charles II buildings and King John Tower,Upper Ward; South Elevation of Upper Quadrangle; North Elevation ofUpper Quadrangel; East Elevation of Upper Quadrangle; Eastelevation of her Majesty's Stables; a View showing the Lodgesentrance to the Great Park; the West Elevation of Her Majesty'sStables and rising House; the North Elevation of Her Majesty'sriding House with Stables; the South Elevation of Her Majesty'sriding House with Stables; the West Elevation of Windsor Castle,middle Ward; the North East View of Winchester Tower, WindsorCastle; the South East View of Henry III Tower, Windsor Castle andthe South West View of Windsor Castle'
inscribed as title under the mount
pencil, pen and grey ink and watercolour
4¾ x 7½in. (12 x 19cm.)
nine framed (24)
Lot Notes
Ashton, who studied under Sir Robert Smirke, was employed formost of his career by Sir Jeffrey Wyattville and then took overmuch of Wyattville's work after his death in 1840. He is best knownfor the stables that were erected to his design at Windsor Castleand the Kennels at Frogmore. This set of watercolours of Windsorfall into two groups, plans relating to Henry Ashton's'Illustrations of Windsor Castle by the late Sir JeffreyWyattville', published in two volumes in 1841, and perspectiveviews related to 'Architectural Illustrations of Windsor Castle byMichael Gandy and Benjamin Baud, Architects', published in 1842.All the drawings are probably from Ashton's office; others are nowin the Paul Mellon Collection, Yale Centre for British Art, NewHaven.