Katia Ashkenazy
Tweet
XX Century -&nbsp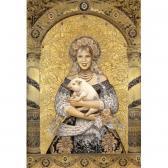 Some works of Katia Ashkenazy
Extracted between 1 works in the catalog of Arcadja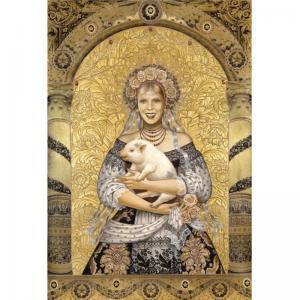 Original 2006
Lot number:
145
Other WORKS AT AUCTION
Description
:
155 by 105cm., 61 by 41 1/4 in.
DESCRIPTION
signed in Latin and dated 2006 l.r.
mixed media with Swarovski crystals on card
PROVENANCEAcquired directly from the artist
EXHIBITED
Moscow, International Contemporary Art Fair, ART Moskva, 2007
CATALOGUE NOTE
Katia Filippova has began her artistic career in the 1980s as a fashion designer, incorporating elements of army uniform in her creations, such as caps with ear-flaps, felt boots and red stars, and decorating them with paste and kitschy accessories. Today, Filippova has given up fashion and focuses on art. She draws her inspiration from the world of film, celebrity and the decadent. Her latest baroque, icon-like portraits from the Russian Hollywood series (2006-7) are a parody on the idolisation of Russian and Soviet celebrities.
Marina Ladynina (1908-2003) was popular Soviet comedienne and frequently participated in social and poitical gatherings. The painting is an ironic portrayal of Ladynina as a kolkhoz superintendent in the famous film Kubanskie kazaki (1949) by Ivan Pyrev.