Rufus Anson
Tweet
(
1822
- &nbsp
1900
)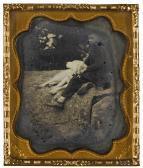 Sotheby's
Oct 5, 2017
Along with Rufus Anson, our clients also searched for the following authors:
Giorgio De Chirico
,
Maurizio Cattelan
,
Lucio Fontana
,
Andy Warhol
,
Richard Avedon
,
Pablo Picasso
,
Damien Hirst
,
Jeff Koons
,
Henri Matisse
,
Viktor Vasarhely
,
Gerhard Richter
Some works of Rufus Anson
Extracted between 2 works in the catalog of Arcadja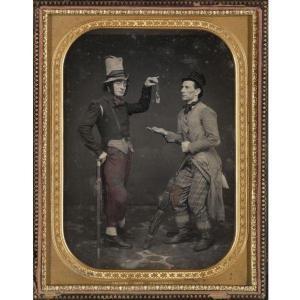 Original
Lot number:
29
Other WORKS AT AUCTION
Description
:
LOT 29

RUFUS ANSON
B. 1822

TWO ACTORS FROM THE MELODRAMA 'ROBERT MACAIRE'

250,000—350,000 USD
measurements

measurements note
whole-plate
Description

whole-plate daguerreotype, hand-tinted, 'Anson 589 Broadway' stamped on the mat, cased, 1850s
PROVENANCE
Collection of André Jammes, Paris
Acquired by a private collector from the above, 1990s

EXHIBITED
Paris, Museé des Arts Décoratifs, Un Siècle de Photographie, de Niépce a Man Ray, 1965
The Art Institute of Chicago, Niépce to Atget: The First Century of Photography, From the Collection of André Jammes, November 1977 - January 1978

LITERATURE AND REFERENCES
André Jammes, Caractère 6, Noël 1960, Pour un Museé Historique de la Photo (Np., 1960), pl. II
Un Siècle de Photographie, de Niépce a Man Ray (Museé des Arts Décoratifs, 1965), pl. 4
David Travis and Marie-Thèrése and André Jammes, Niépce to Atget: The First Century of Photography, From the Collection of André Jammes (The Art Institute of Chicago, 1977), p. 19, cat. no. 14

CATALOGUE NOTE
The daguerreotype offered here portrays the lead actors from the play Robert Macaire , a popular 19th-century melodrama that was performed to enthusiastic audiences in both Europe and America. The plot features two accomplished thieves, the arch-villain Robert Macaire, shown on the left in the present daguerreotype, and his hapless foil Jacques Strop. After a spate of crimes, Macaire and Strop are caught and jailed, but make their escape to a country inn, where they disguise themselves with the names of Rémond and Bertrand . At the inn, however, Macaire unexpectedly encounters the wife he had abandoned years earlier and a son he never knew. When gendarmes arrive on the scene, Macaire is shot and killed.
The first script of the play, by Antiers, Saint-Amant, and Paulyanthe, was entitled L'Auberge des Adrets . The renowned Frédérick Lemaître performed the Macaire role in the original 1823 production, and in 1834, he returned to the character with a revised script of his own making, called simply Robert Macaire. This sequel to L'Auberge des Adrets , propelled by Lemaître's tour-de-force performance as the lead, became a sensation. Transforming the cliché melodrama villain into a living, breathing, and entirely modern swindler, Lemaître became synonymous with the role. The critic Théophile Gautier praised Lemaître's interpretation of Macaire as 'Shakespearean.' So influential was Lemaître's performance that Daumier created an extensive series of lithographs of Macaire that presented the crook in contemporary French society as the banker, the lawyer, the profiteer, the politician, the gigolo, and many others. The character of the legendary Lemaître survives into the 20th century in Marcel Carné's 1945 film Les Enfants du Paradis .
The popular L'Auberge was translated into English by the British comedian and dramatist Charles Selby, and it is Selby's version that was most often performed in England and America. Credit for the creation of the role in English is given to the British actor James Browne, who appears to have personified Macaire for the English-speaking audience much as Lemaître did for the French. Indeed, when Browne revived the role in New York in 1852, he is referred to in the New York press as 'Robert Macaire Browne' and is advertised as having performed Macaire—'his masterpiece'—'in England and America 500 nights.' Robert Macaire continued on the boards through the 1880s and even into the 20th century, and became the stock-in-trade for actors such as Henry Irving.
The physical appearance of subsequent portrayals of Macaire originates in Lemaître's vivid interpretation of the role; the actor in the daguerreotype offered here retains many of the accoutrements that are mentioned in reviews of Lemaître's performances: Macaire's 'towering hat all mashed and battered,' a neck swathed in a 'soiled and frayed cravat,' and 'a long-tailed coat torn to tatters.' The Macaire and Strop of the present image reflect faithfully the costume notes in Charles Selby's version: for Macaire,
'patched green modern body [frock coat] with very long tails, short shabby red trowsers [sic ], dirty white gaiters, old shoes, striped waistcoat, ragged shirt, very large silk pocket handkerchief, shabby white hat with black crepe round it'
and for Strop,
'patched drab coat, dark waistcoat, striped trowsers [sic ], old Wellington boots, shabby black hat.'
Despite his impecunious attire, Lemaître was acclaimed for bringing to the role an inimitable regality—what Gautier termed his 'aristocracy of vice.' It is Macaire's 'astonishing elegance' coupled with evil, what one critic called 'the grandeur of rascality,' that was Lemaître's legacy to the scores of actors who followed in the role, including the actor in the daguerreotype offered here.
The historical record for the daguerreotypist Rufus P. Anson (b. 1822, active circa 1851 – 1866) is scant. Anson was in business at least as early as July 1851 at 633 Broadway, and had moved to 589 Broadway by 1853. Anson's second studio can be seen in the well-known 1857 photograph of Charles de Forest Fredricks's Photographic Temple of Art, which was just two doors away at 585 Broadway (cf. Keith Davis, The Origins of American Photography, 1839 – 1885: From Daguerreotype to Dry-Plate , pl. 287). Davis points out that Anson, known for his brisk and lucrative business in daguerreotypes of the common man, claimed his share of prominent sitters, including Jenny Lind's rival Marietta Alboni (ibid. , p. 41 and fig. C-27). The Olympic Theatre, also located in the Fredricks building at 585 Broadway and whose entrance is visible in the Temple of Art photograph, could have provided neighborhood daguerreotypists with a steady stream of theatre clientele.
Taft observes that Anson was among a group of New York photographers still making daguerreotypes well into the 1860s, and indeed, Anson is present in the New York directories at 589 Broadway until 1865-66. Thus there is over a decade in which the present image might have been taken, and a number of actors, foreign as well as American, who could be pictured here. George C. D. Odell, in his seminal Annals of the New York Stage
(New York, 1927-49), describes no fewer than 15 productions of Macaire in New York theatres from 1851 to 1865, each with a different cast, and even Odell's extensive chronicle does not account for every performance of this popular play.
Although none of the actors for which there are extant portraits can be precisely matched to the thespians in the image offered here, Anson's daguerreotype transcends the portrait genre. A rare daguerreian record of the archetypal Macaire and Strop, this plate captures in unparalleled fashion the substance and spirit of American theatre of the mid-19th century.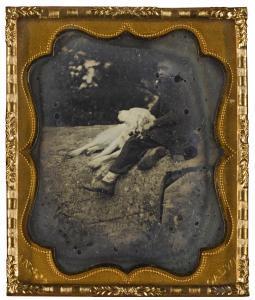 Original 1850
Lot number:
16
Other WORKS AT AUCTION
Description
:
IMPORTANT DAGUERREOTYPES FROM THE STANLEY B. BURNS, MD, COLLECTION Rufus Anson A YOUNG BOY WITH HIS DOG, NEW YORK 1820-1900 sixth-plate daguerreotype, the photographer's credit stamped on the mat, half-cased, 1850s Sixth-plate