Andrea Del Sarto
Tweet
(
1486
- &nbsp
1530
)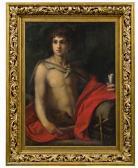 im Kinsky Auktionshaus
Nov 8, 2011
Find artworks, auction results, sale prices and pictures of Andrea Del Sarto at auctions worldwide.
Go to the complete price list of works
Follow the artist with our email alert
Variants on Artist's name :
Sarto Del Andrea
Del Sarto Andrea
Along with Andrea Del Sarto, our clients also searched for the following authors:
Michelangelo Pace Da Campidoglio
,
Giuseppe Bernardino Bison
,
Romualdo Locatelli
,
Lodovico Zambeletti
,
Giuseppe I Canella
,
Francesco Tironi
,
Giovanni Domenico Tiepolo
,
Pier Francesco Mola
,
Carlo Grubacs
,
Pompeo Mariani
,
Paul Cezanne
Some works of Andrea Del Sarto
Extracted between 294 works in the catalog of Arcadja
LA BIOGRAFIA DI Andrea Del Sarto
ANDREA del Sarto Andrea d'Agnolo detto Pittore italiano (Firenze 1486 - 1531).
Figlio di un sarto, dopo aver fatto un breve apprendistato presso la bottega di un orafo, fu allievo di Piero di Cosimo.
Subì in parte l'influenza di Raffaello, di Leonardo e di Michelangelo, dei quali copiò i cartoni per palazzo Vecchio.
La sua prima opera importante fu la decorazione in terra verde a chiaroscuro del chiostro degli Scalzi in Firenze con scene della Vita di S.
Giovanni Battista, iniziata nel 1507 e interrotta più volte per essere poi terminata nel 1526.
Nel 1508 iniziò gli affreschi del chiostro dei Voti della SS.
Annunziata, raffigurandovi cinque scene della Vita di san Filippo Benizzi, a cui si aggiunsero nel 1511 e nel 1514 il Corteo dei Magi e la Natività della Vergine.
Nel 1515 decorò la facciata posticcia del duomo di Firenze, eretta da Iacopo del Sansovino.
Del 1517 sono due pale d'altare conservate a Firenze, la Madonna delle Arpie (Uffizi) e la Disputa della Trinità (Palazzo Pitti).
Nel 1518 fu in Francia, alla corte di Francesco I, dove rimase fino al 1519 ed eseguì diverse opere tra cui una Carità (Parigi, Louvre).
Nel 1521 incominciò l'affresco del Tributo a Cesare per la villa medicea di Poggio a Caiano, rimasto incompiuto per la morte del committente papa Leone X e successivamente completato dal A.
Allori.
Nel 1523 scappò da Firenze per sfuggire la peste e si trasferì a Luco di Mugello dove realizzò, per le suore di S.
Pietro, una Deposizione (Firenze, Palazzo Pitti).
Tornato a Firenze nel 1524, fu invitato da Ottaviano de' Medici a eseguire la copia del ritratto di Leone X di Raffaello (Napoli, Museo di Capodimonte); nel 1528 dipinse una Madonna con santi, oggi conservata a Berlino.
Altre sue opere notevoli sono il Cenacolo di S.
Salvi realizzato attorno al 1526, la Sacra Famiglia della Galleria Borghese a Roma, le Storie di san Giuseppe in palazzo Pitti a Firenze.
Sempre a Firenze, l'artista diresse una fiorente bottega, fondata nel 1508 assieme a Francesco Franciabigio; fu inoltre il maestro di Pontormo e di Rosso Fiorentino.