Henry Thomas I Alken
Tweet
Follow the artist with our email alert
United Kingdom
(
1785
-&nbsp
1850
)&nbsp-&nbsp
Artworks
Wikipedia® - Henry Thomas I Alken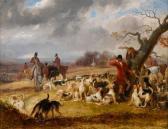 Freeman /
Jun 3, 2012
€12,173.35 - €20,288.91
Not Sold
Find artworks, auction results, sale prices and pictures of Henry Thomas I Alken at auctions worldwide.
Go to the complete price list of works
Variants on Artist's name :
Tally Ho Ben
Alken Henry
Along with Henry Thomas I Alken, our clients also searched for the following authors:
Francis Bacon
,
Ansel Adams
,
Andy Warhol
,
Viktor Vasarhely
,
Gerhard Richter
,
Henri Matisse
,
Michelangelo Pistoletto
,
Pablo Picasso
,
Jean-Michel Basquiat
,
Claude Monet
,
Alberto Giacometti
Some works of Henry Thomas I Alken
Extracted between 494 works in the catalog of Arcadja
LA BIOGRAFIA DI Henry Thomas I Alken
ALKEN Henry Pittore e incisore inglese (1785 - 1851).
Figlio di Samuel, anch'egli incisore e affermato acquarellista.
Fu uno dei più celebri artisti inglesi di soggetti di caccia e di sport.
Fu allievo del miniaturista J.
T.
Beaumont, da cui imparò la precisione nel disegno.
Lavorò come illustratore di periodici sportivi e tra le sue incisioni migliori ricordiamo The National Sports of Great Britain, pubblicato a Londra nel 1821, e The Life of a Sportman, eseguita nel 1842.
Anche i figli George ed Henry predilessero i soggetti sportivi.