Mihr Ali
Tweet
Follow the artist with our email alert
XVIII-XIX Century -&nbsp
Artworks
Sotheby's /
Oct 12, 2004
€725,794.75 - €1,161,271.60
€1,306,099.14
Along with Mihr Ali, our clients also searched for the following authors:
Francis Bacon
,
Marco Lodola
,
Andy Warhol
,
Francois-Xavier Lalanne
,
Richard Avedon
,
Marc Chagall
,
Anonymous
,
Max Parsons
,
Alberto Giacometti
,
Pablo Picasso
,
Pirkner
Some works of Mihr Ali
Extracted between 2 works in the catalog of Arcadja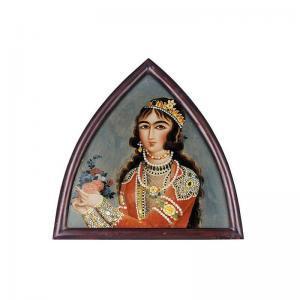 Attributed
Lot number:
38
Other WORKS AT AUCTION
Description
:
arch-shaped glass, painted in reverse, in colours and gold, in wood frame this is a very fine example of reverse-glass painting, or églomisé painting, in iran. this difficult technique, that requires working in reverse, became popular in 19th century iran but relatively few examples still exist, probably in part due to the fragile nature of the medium used. the present work has survived in generally good condition and it is one of the most refined example of this type. indeed, the treatment of the maiden's hair, her face and hands as well as the skillfully rendered transparency of her under shirt suggest that this must have been the work of a very accomplished artist while her facial features and the rich and elaborate jewellery are of a type best seen in the celebrated royal portraits by mihr ali. in terms of reverse-glass paintings this work can be compared to other examples dating from the early qajar period including a portrait of abbas mirza, in the ethnographical museum, teheran, attributed to mihr ali (ferrier 1989, p.229, pl.9) and/or mirza baba (diba & ekhtiar, p.212, no.63a,b) and two works in the nasser d. khalili collection, london (idem, no.63a,b).