Hafidh Al-Droubi
Tweet
(
1914
-&nbsp
1991
)&nbsp-&nbsp
Artworks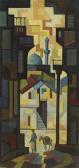 Christie's /
Oct 27, 2009
€6,873.32 - €10,309.99
€7,906.37

Some works of Hafidh Al-Droubi
Extracted between 3 works in the catalog of Arcadja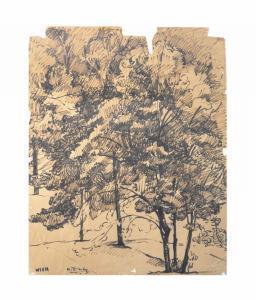 Original 1950
Lot number:
119
Other WORKS AT AUCTION
Description
:
Lot Description Hafidh Al-Drouby (Iraqi, 1914-1991) WIEN signed and inscribed 'WIEN H. Drouby' (lower left) ink and wash on paper 21 5/8 x 17 1/8in. (55 x 43.5cm.) Executed in 1950 Special Notice lots are subject to 5% import Duty on the importation value (low estimate) levied at the time of collection shipment within UAE. For UAE buyers, please note that duty is paid at origin (Dubai) and not in the importing country. As such, duty paid in Dubai is treated as final duty payment. It is the buyer's responsibility to ascertain and pay all taxes due. Lot Condition Report I confirm that I have read this Important Notice and agree to its terms. View Condition Report Provenance Collection of Professor Valentinos Charalambous, Baghdad (a gift from the artist). Acquired from the above by the present owner. Pre-Lot Text A SELECTION OF IRAQI PAINTINGS FROM THE PRIVATE COLLECTION OF MAATH ALOUSI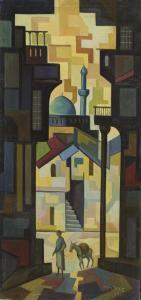 Original 1976
Lot number:
138
Other WORKS AT AUCTION
Description
:
Hafidh Al-Droubi (Iraqi, 1914-1991) Street Scene in Baghdad signed and dated in Arabic (lower left) oil on canvas 37¼ x 17¾in. (95 x 45cm.) Painted in 1976 Hafidh Al-Droubi was one of the first Iraqi artists to study art in Europe, who adhered to academics styles. This group was later referred to as the Pioneers, and were members of an all-Iraqi faculty at the Institute of Fine Arts in Baghdad. Al-Droubi produced realistic paintings, with naturalistic dimensions and perspective of daily traditional Baghdadi scenes, a rapidly disappearing rural life, cityscapes, and historical subjects, with a distinct use of light. Most of his mature works kept a similar subject matter, but his style became more cubist and abstracted style, with straight distinct lines and flat colours.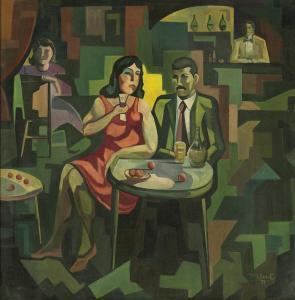 Original 1969
Lot number:
18
Other WORKS AT AUCTION
Description
:
Hafidh Al-Droubi (Iraqi, 1914-1991) Baghdad Café signed and dated in Arabic (lower right) oil on canvas 34½ x 34¼in. (88 x 88cm.) Painted in 1969 Pre-Lot Text PROPERTY FROM A PRIVATE COLLECTION, UAE