Afsharid
Tweet
XVIII Century -&nbsp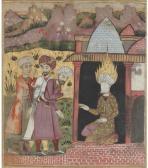 Some works of Afsharid
Extracted between 1 works in the catalog of Arcadja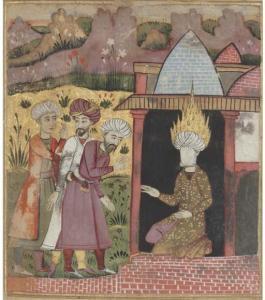 Original 1740
Lot number:
631
Other WORKS AT AUCTION
Description
:
THREE MEN WITH A PROPHET, AFSHARID IRAN, CIRCA 1740
Gouache heightened with gold on paper, from an illustrated religious manuscript, the Prophet seated inside a domed building, with three men greeting him from outside-7 x 6in. (17.7 x 15.2cm.)
Lot Notes
The manuscript from which this miniature comes is an unidentified Persian text of a religious nature relating various stories from the Qur'an. It is a large format manuscript written in fine black and gold nasta'liq. Other leaves are in the Israel Museum in Jerusalem. See Milstein, R.: Islamic painting in the Israel Museum, Jerusalem, 1984, nos. 88-104, pp. 96-98.