Herbert Adams
Tweet
(
1858
-&nbsp
1945
)&nbsp-&nbsp
Sculptures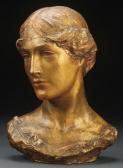 Jackson's /
Jun 3, 2014
€367.35 - €551.02
Not Sold

Some works of Herbert Adams
Extracted between 3 works in the catalog of Arcadja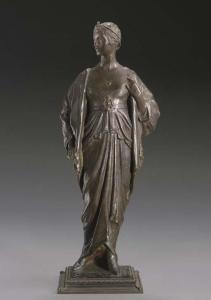 Original
Lot number:
30
Other WORKS AT AUCTION
Description
:
Herbert Adams (1858-1945) Debutante: Miss Margaret Wilson inscribed 'HA/MCMXIC' (along the base) bronze with brown patina 14¾ in. (37.5 cm.) high Pre-Lot Text Christie's is pleased to offer two works from the collection ofPeter and Alma Smith, Cornish, New Hampshire (lots 30 and 31). Lot Notes Considered one of the most prominent American art colonies, theCornish Art Colony flourished from 1890 to the mid 1920's andfeatured some of the most established and celebrated artists at theturn of the century. Herbert Adams, a member of the Colony, was a leading sculptor ofthe Renaissance Revival movement who chose to portray women inhistorical costumes, suggesting Renaissance styles while manyAmerican sculptors were turning away from antiquities to modernsubjects and methods. Adams studied at the Massachusetts Institute of Technology and wasa student at the École des Beaux Arts in Paris, earning honorablementions in the Paris Salons of 1888 and 1889 as well as many othermedals at American expositions and exhibitions. Adams was a memberof the National Academy of Design, where he also served asPresident.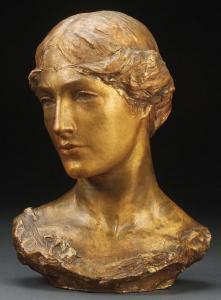 Original
Lot number:
579
Other WORKS AT AUCTION
Description
:
HERBERT SAMUEL ADAMS (American 1858-1945) Meditation- circa 1905 Plaster with gilt patina Inscribed on base ""Herbert Adams ````05"" Height 12.5 inches Provenance: Acquired directly from the Adams Family.

Original 1914
Lot number:
97
Other WORKS AT AUCTION
Description
:
Herbert Adams 1858-1945 DEBUTANTE, 1914 Signed with initials and dated HA/MCMXIV , stamped Roman Bronze Works, N.Y. Bronze with brown patina, on a wood base Height 14 5/8 inches, excluding base Estimate $3,000-5,000